"Play ball!" Soon, that phrase will be echoing across fields in every corner of this country.
You may or may not know this, but March 20th marks the first day of spring. That's right, the first day of spring is here. Some people are just emerging from their winter naps and see spring as the start of something new - but not you. You've spent fall and winter getting ready. Like an athlete training for the big event, you've been prepping for this growing season for months.
Being a Philadelphia native, I of course channel the movie Rocky for inspiration to prepare for a new challenge. Instead of jumping rope, you've been studying seeds. You probably haven't punched a side of beef in a cooler, but you've bruised a few knuckles doing the work to get your center pivots in tip-top shape. You haven't been running through the crowded streets of South Philly, but have fought your way through crowded trade shows to see the latest offerings, like the Valley ICON™ panels. I hope you haven't been choking down some raw eggs, but you have been drinking in information on how improved irrigation and new available technology will increase your yield.
Like Rocky at the top of the steps, your preparation is done. You feel good. You are ready! You can look back on all of your hard work and know it's going to pay off. Now, it's time to get out there and do it. Mother Nature is going to land some body blows and slip in a few jabs…maybe even knock you down. But, you've made your plans, put in place you contingencies, and finished all of your preparations. You are ready to go the distance and win.
For many, "play ball" is the sound of spring. For you, "let's get ready to rumble" might be more appropriate.
(Cue "Eye of the Tiger")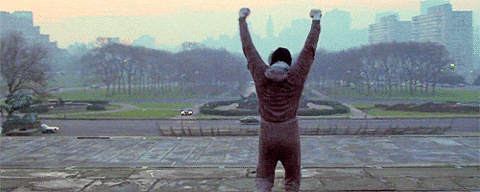 courtesy of gihpy.com
Did you enjoy this article? Read these next:
8 Tips to Accurately Check Your Center Pivot Sprinklers
12 Things Your Dad Didn't Tell You About Buying a Center Pivot